Mushroom and Tempeh Stew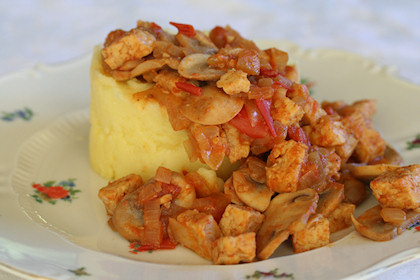 Total servings: 4
Ingredients
1/2 cup water
2 Tbs shoyu or tamari
200 g tempeh
1 medium onion, chopped
1 garlic clove, crushed
1 Tbs vegetable oil
150 g mushrooms, sliced
1 tomato, diced
1 Tbs shoyu or tamari
5 large potatoes cooked
2 Tbs soymilk
2 Tbs margarine
salt and pepper to taste
Directions
Bring the water to boil in saucepan, add shoyu and tempeh and simmer for 20 minutes (turning tempeh after 10 minutes). Drain tempeh and set aside.
Saute onion and garlic in the oil for two minutes. Add the mushrooms and cook for another two minutes.
Cut the tempeh in small cubes. Add tempeh, bay leaf, shoyu, tomato to the pan. Cook for about 5 minutes, stirring frequently. Remove bay leaf.
Mash the hot and cooked potatoes with soymilk, margarine, salt and pepper.
On a serving plate, make a base with the mashed potato and pile on top the mushroom and tempeh stew. Recipe will be vegan if vegan margarine is used.
Vegan: NoVegetarian: Yes