How to make beluga lentil tempeh
You can make tempeh from split lentils, but this very difficult. Lentils contain a lot of starch and turn into a mash after a few minutes of cooking. However is easy to make beautiful tempeh with a special type of lentils: beluga lentils. Beluga lentils are very small black lentil, which get their name from their resemblance to Beluga caviar. Beluga lentils are very healthy. Not only contain they a lot of dietary fiber and folates, they also have anthocyanins, a powerful antioxidant that give them their typical dark color.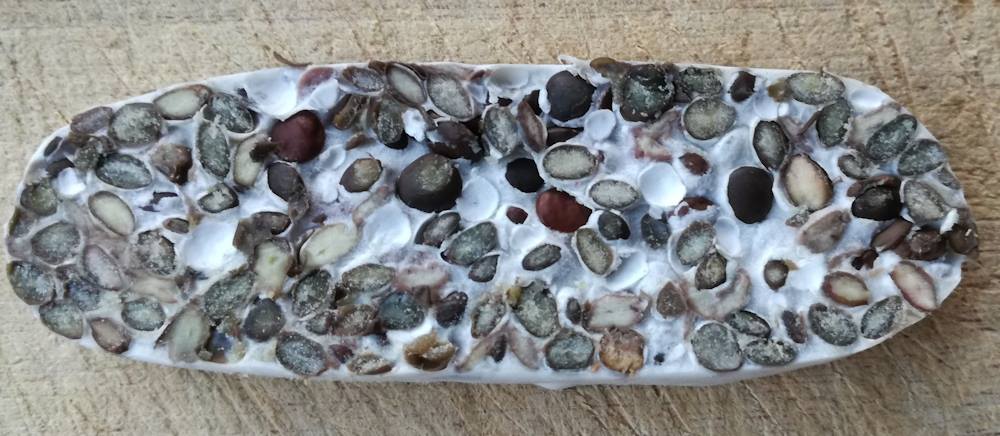 Ingredients for 1 kg beluga lentil tempeh:
600 g beluga lentils
2 teaspoon vegan lactic acid 80%
1 teaspoon (about 3 to 5 grams) starter
Step 1: Soak the beluga lentils
Soak the beluga lentils in about 2 liter water for about 8 hours.
Step 2: Cook the beluga lentils
Put the beluga lentils in a cooking pot and add enough water to cover them. Add the lactic acid and cook for 25 min on low heat. It is preferred to use lactic acid because it acidifies the lentils without inhibiting the Rhizopus mold. Drain off the water and allow the beluga lentils to cool to below 35°C. It is not necessary to dry the beluga lentils.
Step 3: Inoculate the beluga lentils with tempeh starter
Sprinkle the beluga lentils with 1 teaspoon of tempeh starter. Mix gently with a clean spoon for about 1 minute to distribute the tempeh starter evenly.
Step 4: Incubate the tempeh
Take 2 plastic bags 18 x 28 cm and perforate them with holes at a distance of about 1 cm by a thick but sharp needle. Divide the lentils in the two bags, seal them and press them flat, making sure that the total thickness of the lentils is max 4 cm. Place the lentils in an incubator set at 30°C for about 36 to 48 hours, after which the bag should be filled completely with white mycelium and the tempeh should smell fresh and fruity. Enjoy your beluga lentil tempeh!