Books about tempeh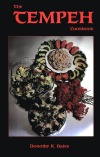 THE TEMPEH COOKBOOK
by Dorothy R. Bates
Discover wonderful new ways to use tempeh, a cultured food made from soybeans. Rich in protein, B vitamins, niacin and iron, tempeh contains no cholesterol. A staple food in Indonesia for centuries, it is now gaining recognition in the West from ecology minded and health conscious people. Savor more than 100 kitchen tested recipes: Bangkok Cold Noodle Salad, Mexican Chimichangas, Cajun Dirty Rice and Beans, Sauerbraten and Hungarian Paprikash. Includes nutritional analysis of recipes, plus clear, easy directions for making tempeh at home. Cynthia Bates is a pioneer in introducing tempeh to the US.

THE WOLE SOY COOKBOOK
By Patricia Greenberg and Helen Newton Hartung
Now that medical research has confirmed that soy really can lower your cholesterol, slow bone loss, fight heart disease and cancer, and even moderate the symptoms of menopause, here are 175 delicious ways to incorporate soy products into your diet. These mouthwatering recipes - from potatoes au gratin, pizza, meat loaf, brownies, cheesecake, and ice cream to tiramisu, fajitas, and Cajun red-hot jambalaya - are inspired by old favorites and classic dishes from the world's best cuisines. All of the recipes are meat- and dairy-free, making them perfect for every health-conscious cook. You'll learn how to buy and cook all soy products, including soy milk and flour, tofu, miso paste, textured soy protein, and tempeh. You'll even learn how easy it is to add or substitute healthy soy products for the meat protein in any of your favorite recipes.

THE BOOK OF TEMPEH
by William Shurtleff, Akiko Aoyagi
The full story of tempeh, a delectable cultured soyfood that tastes like southern fried chicken, contains twice the protein of hamburger. The Book of Tempeh contains over 130 tempting American and Indonesian recipes, including Tempeh Burgers, Tempeh, Lettuce & Tomato Sandwiches, Crisp Tempeh Chips, and Breaded Tempeh Cutlets. Detailed instructions for making your own tempeh at home, in communities, or in a commercial shop, extensive nutritional information, bibliography of 275 references, lengthy history, listing of all tempeh makers, index, and a discussion of tempeh and world hunger. Prepared fresh daily at 41,000 shops in Indonesia, this delicious, cholesterol-free protein is now widely available in the West.
TEMPEH PRODUCTION: A CRAFT AND TECHNICAL MANUAL
by William Shurtleff, Akiko Aoyagi
Tempeh Production describes how to start and run your own tempeh shop on any of four scales and budgets in North America, from a small community or kitchen shop up to a steam cooker plant or modern factory, and on either of two scales in tropical Third World countries. Based on three years of research, including extensive field studies with top tempeh producers in the U.S. and Indonesia, Tempeh Production will long remain the definitive work in this vital new field of soy protein food production. Tempeh Production has already been used to start many successful tempeh shops and plants in North America. Here is the book that will ensure tempeh a lasting place in our daily diet.