Stuffed Peppers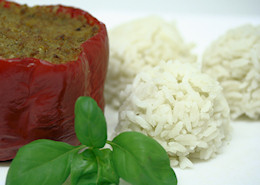 Total servings: 4
Ingredients
250 g tempeh, cut in small cubes
4 bell peppers, green or red
1 1/2 cups water
4 Tbs tamari
5 fresh basil leaves, chopped
1 clove garlic, minced
2 Tbs vegetable oil
1/2 cup bread crumbs
Directions
Preheat oven to 170°C. Parboil the peppers 5 minutes in water. Cool under cold water. Core the peppers, discarding stalks, seeds and skin.
Combine tempeh, tamari and water and simmer for 20 minutes. Drain and transfer to a bowl. Add the basil and garlic. Mash the tempeh with the back of a spoon.
Fill the peppers with tempeh mixture and place in a oiled baking dish. Sprinkle with bread crumbs and cover the stuffed peppers with oil.
Bake the stuffed peppers for 25 minutes in an oven at 170°C. Finally broil for a few minutes or until top is brown. Serve the stuffed peppers hot with rice.
Vegan: YesVegetarian: Yes