Basil Tomato Soup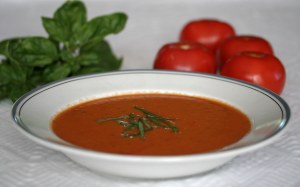 Total servings: 4
Ingredients
1 tablespoon olive oil
1 medium onion, chopped
2 celery stalks, chopped
8 medium tomatoes, cut in four pieces
12 fresh basil leaves
100 g tempeh, cut in large cubes
250 ml vegetable stock or water
salt and pepper to taste
Directions
In a soup pot, bake the onion in the olive oil until translucent. Add 250 ml water, celery and tomatoes and bring to boil. Simmer for about 15 minutes. Add the 10 fresh basil leaves and continue to simmer for 2 minutes. Mix this soup briefly and pass through a sieve. Put this mixture back in the soup pot.
In a blender, mix the tempeh with the vegetable stock until very smooth. Add this tempeh pulp to the sieved tomatoes and bring briefly to boiling point. Bring this basil tomato soup to taste with salt and pepper.
Cut two basil leaves in very small strips. Serve the basil tomato soup in individual plates and decorate with the basil strips.
Vegan: YesVegetarian: Yes