Pizza with Tempeh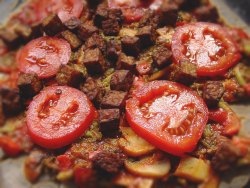 Total servings: 4
Ingredients
2 Tbs vegetable oil
1 medium onion, chopped
2 cloves garlic, crushed
1 red bell pepper, chopped
300g tomato puree
2 cups broccoli, cut in small pieces
150 g mushrooms, cut in slices
1/2 tsp dried oregano
salt and pepper to taste
2 1/2 cups flour
1/2 tsp salt
2 Tbs vegetable oil
2/3 cup water
3 tsp baking powder
250 g tempeh, cut in small cubes
2 Tbs soy sauce
4 Tbs vegetable oil
2 fresh tomatoes
Directions
In a saucepan heat the oil over a medium flame. Add the onions, garlic, and peppers. Sauté until the onions are tender. Add the tomato pulp, broccoli, herbs, salt and pepper. Simmer 10 minutes or until the broccoli is almost soft. Add the mushrooms and continue to heat for 5 minutes.
Preheat oven to 420° F (210°C). In a large bowl combine flour, salt and baking powder. Add the oil and mix. Add water, while mixing, until the dough holds together, but is not sticky. Put the dough on pizza pan and form the pizza. Bake for 20 minutes.
Pour the soy sauce over the tempeh until most of the sauce is absorbed. Drain tempeh. Bake the tempeh in a frying pan in the oil, turning often, until all sides are golden brown. Turn off the heat.
Take the pizza crust out of the oven and spread it with sauce. Arrange the tempeh and tomato slices (and optionally grated vegan cheese or olives) on top and return to the oven for 10 minutes. Serve the tempeh pizza immediately.
Vegan: YesVegetarian: Yes