Tangy Tempeh with Peanut Sauce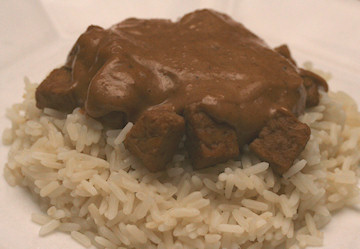 Total servings: 4
Ingredients
2 Tbsp vegetable oil
4 Tbs soy sauce
2 Tbs vinegar
1/3 cup rice wine
1 clove garlic, minced
250 g tempeh, cut in small cubes
1 cup peanut butter
2 Tbs honey
2 Tbs soy sauce
2 Tbs vinegar
1 tsp fresh gingerroot, minced
2 cloves garlic, crushed
salt and pepper to taste
1/2 cup hot water
Directions
To make the marinade mix the first 5 ingredients. Put the tempeh in in a wide saute pan. Pour the marinade over the tempeh. Bring to a boil and simmer over low heat during 15 minutes. Turn tempeh a few times. Uncover and cook until the tempeh is nearly dry.
To make the peanut sauce mix in a blender the peanut butter, honey, soy sauce, vinegar, ginger, garlic, water, salt and pepper.
Serve over rice and top with peanut sauce.
Vegan: NoVegetarian: Yes