Vegan Paella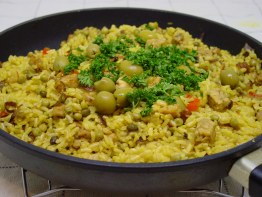 Total servings: 6
Ingredients
2 cups rice
4 cups water or vegetable stock
3 Tbs olive oil
1 medium onion, sliced
2 celery ribs, cut in small pieces
2 chili peppers
1/2 cup cappers
1 tsp dried tarragon
1/2 tsp saffron powder
1/2 cup green olives
250 g tempeh, cut in small cubes
1 small cans of peas, drained
salt and pepper to taste
2 Tbs parsley, minced
Directions
Heat oil in nonstick skillet over medium heat. Cook tempeh, onion and chili pepper for about 5 minutes.
Add rice and vegetable stock. Heat to boiling, reduce heat to medium low. Cover and let cook until rice is done and liquid absorbed, stirring occasionally.
Add cappers, tarragon, saffron, peas, olives and salt and pepper. Simmer for one minute.
Sprinkle the vegan paella with parsley and serve hot.
Vegan: YesVegetarian: Yes