Make chickpea tempeh
It is possible to use our tempeh starter to make chickpea tempeh. It is important not to dehull the chickpeas and to use a small sized variety. If you use large sized chickpeas there will be a lot of air space between the peas, resulting in too much sporulation.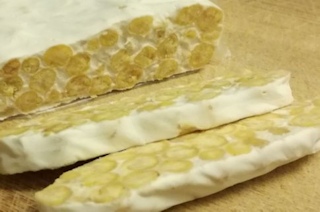 To make 1 kg chickpea tempeh you need following ingredients:
600 g whole small chickpeas
2 teaspoon vegan lactic acid 80%
1 teaspoon (about 3 to 5 grams) tempeh starter
Step 1: Soaking the chickpeas
Soak the chickpeas in 2 liter water for about 8 hours or overnight.
Step 2: Cooking
Put the chickpeas in a cooking pot and add enough water to cover them. Add the lactic acid and cook for 60 min on low heat. Drain and allow the chickpeas to cool to below 35°C. The chickpeas should not be dried, they should be still a bit moist.
Step 3: Inoculating the chickpeas
Sprinkle the chickpeas with 1 teaspoon of tempeh starter. Mix very well with a clean spoon for about 1 minute.
Step 4: Fermentation
Take 2 plastic bags 18 x 28 cm and perforate them with holes at a distance of about 1 cm by a thick but sharp needle. Divide the peas in the two bags and seal them. Press them flat to remove as much air space between the peas. Allow the tempeh to ferment about 18 to 24 hours at 30°C.